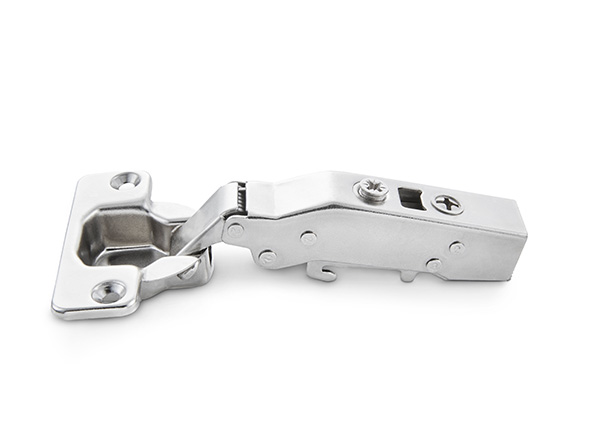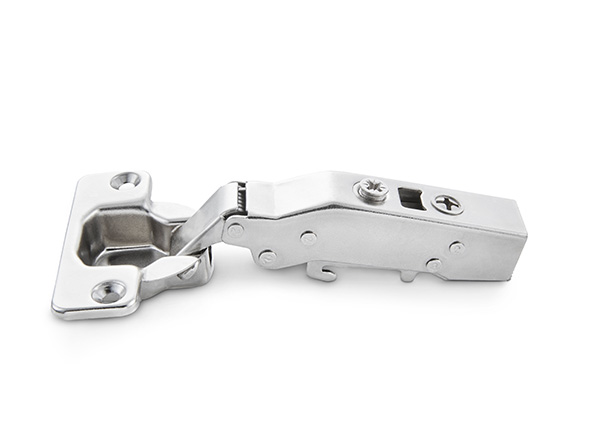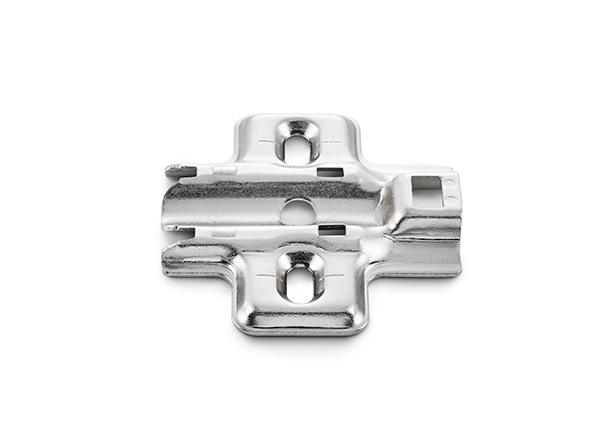 Integrated Soft Close Hinge
SlowMotion Inside
The Integrated Hinges are the latest solution for dampening doors in the FGV range. A SlowMotion linear damper hidden in the Hinge arm offers effective and constant ...The Integrated Hinges are the latest solution for dampening doors in the FGV range. A SlowMotion linear damper hidden in the Hinge arm offers effective and constant performances under all conditions. A rapid installation is enabled by 3D adjustments, which ensures a smooth alignment of the door's correct orientation. Integrated Hinges are the perfect solution for meeting the consumer's needs while controlling cost. Read More
Colour / Finish :
Nickel plated steel
Crank Available : 0, 8, 15
Key Features :
Depth of metal cup 11.3 mm
Cup diameter 35 mm
Opening 110° with (K) max 4 mm and (T) max 18 mm
Possibility of door drilling (K) from 3 to 7 mm
Thickness of the door (T) from 16 to 26 mm
SlowMotion solution with linear damper
The Integrated Hinges are the latest solution for dampening doors in the FGV range. A SlowMotion linear damper hidden in the Hinge arm offers effective and constant performances under all conditions. A rapid installation is enabled by 3D adjustments, which ensures a smooth alignment of the door's correct orientation. Integrated Hinges are the perfect solution for meeting the consumer's needs while controlling cost.
Artical No
SAP
Item Description
Qty
Unit
PU
HSN CODE
INTEGRATED HINGS WITH MOUNTING PLATE H = 0 mm
INTEGRATED HINGS FOR 16-26 MM THICK DOORS, OPENING ANGLE 110 (MOUNTING PLATE HEIGHT – 0 mm) – CRANK 0
51BH5050005000
51BSH50500050000
Slowmotion Hinge – Crank 0, Lay On DOORS
2
PC
50
–
525B01M50000000
525B01M50000000
Mounting Plate Integrated Hinge
2
PC
50
–
510YFGV5000B000
510YFGV5000B000
Hings Arm Cover Cap.
2
PC
50
–
SET CODE
51BSH5051005000
Integrated Soft Close Hings, Crank 0
1
SET
50
83021090
INTEGRATED HINGS FOR 16-26 MM THICK DOORS, OPENING ANGLE 110 (MOUNTING PLATE HEIGHT – 0 mm) – CRANK 8
51BH5050005000
51BSH50500050000
Slowmotion Hinge – Crank 8, Lay On DOORS
2
PC
50
–
525B01M50000000
525B01M50000000
Mounting Plate Integrated Hinge
2
PC
50
–
510YFGV5000B000
510YFGV5000B000
Hings Arm Cover Cap.
2
PC
50
–
SET CODE
51BSH5051005000
Integrated Soft Close Hings, Crank 8
1
SET
50
83021090
INTEGRATED HINGS FOR 16-26 MM THICK DOORS, OPENING ANGLE 110 (MOUNTING PLATE HEIGHT – 0 mm) – CRANK 15
51BH5050005000
51BSH50500050000
Slowmotion Hinge – Crank 15, Lay On DOORS
2
PC
50
–
525B01M50000000
525B01M50000000
Mounting Plate Integrated Hinge
2
PC
50
–
510YFGV5000B000
510YFGV5000B000
Hings Arm Cover Cap.
2
PC
50
–
SET CODE
51BSH5051005000
Integrated Soft Close Hings, Crank 15
1
SET
50
83021090