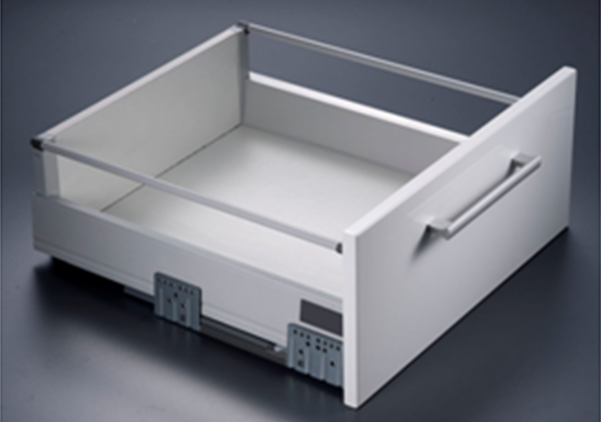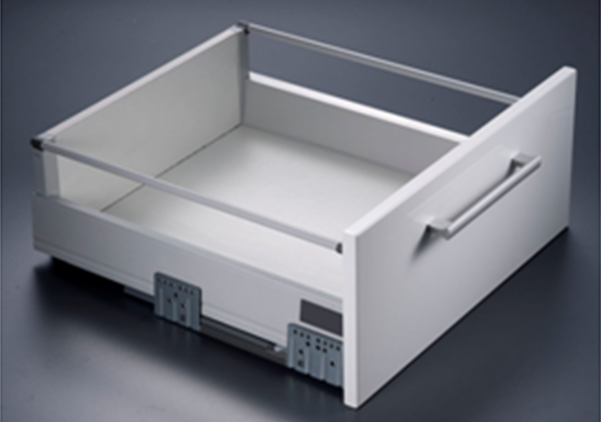 Uniplus Drawer System With Single Round Railings
Normal Drawer. Height –142mm
Uniplus is the new benchmark in affordable high quality and high performance double wall drawer technology. Uniplus is a complete range with products for all the usu ...Uniplus is the new benchmark in affordable high quality and high performance double wall drawer technology. Uniplus is a complete range with products for all the usual applications with clever solutions, Italian design and elegance. The name Uniplus symbolises the fulfilment of the highest criteria of product performance, where every detail counts. The state-of-the-art conception, the use of environment-friendly materials and production solutions, together with the known expertise of FGV, make Uniplus a perfect product for its niche. Read More
Colour / Finish :
Standard Grey
Key Features :
Full-extension sliding system with a load capacity of 40 kg throughout the range with Synchro-wheel for optimal and noiseless operation.
Depths of 450 and 500 mm
All steel front fixing mechanism for strong and secure fixing
Extra bracket added on runner profile for heavy duty model for enhanced stability and performance
Sagging as per Europeans norms EN 15338 is 4% of the extension. For Uniplus it is not more than 1.5%
Epoxy powder coating
Corrosion resistance as per grade 9 under a 48H NSS test. (It is equivalent to exposing it under the normal conditions about 2 years)
Oil damper can handle working in temperature range from -20° to +60° degress
50 mm damper stroke
One Step 2D adjustment via cams and easy assembly and disassembly of the front
Easy drawer adjustment screw to adjust ± 2 mm up and down
Bottom fixing via ClawFix or screws without processing on the panel
Bottom panel and back panel with identical width
Compatible with bottom panel thickness 16 & 18 mm
Eco-friendly boomerang packing
Easy to clean, thanks to hygienic bottom lip and clean adjustment of every connection
Durability test to EN 15338 level
Easy installation and release
Material: Slide galvanized steel/ side SPCC
Uniplus is the new benchmark in affordable high quality and high performance double wall drawer technology. Uniplus is a complete range with products for all the usual applications with clever solutions, Italian design and elegance. The name Uniplus symbolises the fulfilment of the highest criteria of product performance, where every detail counts. The state-of-the-art conception, the use of environment-friendly materials and production solutions, together with the known expertise of FGV, make Uniplus a perfect product for its niche.
Artical
SAP
Item Description
LENGTH
QTY
UNIT
PU
HSN CODE
PRODUCT :- STROM GREY
58XEAKB645XA0S0
58XEAKB645XA0S0
DRAWER SYSTEM REGULAR H =90 MM
450 MM
1
SET
1
83021090
58XEAKB650XAOSO
58XEAKB650XAOSO
DRAWER SYSTEM REGULAR H =90 MM
500 MM
1
SET
1
83021090